We are very grateful to our clients for their comments and suggestions, without which these guides would not be possible. If you have a suggestion to improve this guide or its associated video, please email tracey@ftax.co.uk
How to Buy Ftax Forms (Agents)
Ftax sells online tax filing products to Individuals, Businesses and Agents to enable them to submit tax returns online to HMRC. This video is intended for tax agents who file tax returns on behalf of clients.
This guide shows how to:
Create an account
Purchase
Download and save the form
Ftax for Agents has the Partnership, Company, and VAT tax returns available for purchase, as well as the Ftax Cashbook:
Further information for each product may be found by clicking 'read more':
The 'How to Use' videos and guides on the support section of the Ftax website provide a useful overview of each tax form:
Each Ftax product includes a tax return form and a number of credits. Each credit enables the tax return for one tax filer to be completed, calculated, and submitted as many times as required for the form's tax year:
Note that in Ftax for Agents 'tax filers' are referred to as 'clients'.

1. Create an Account
When you have decided which Ftax products you wish to purchase, click 'Buy' on the package you require: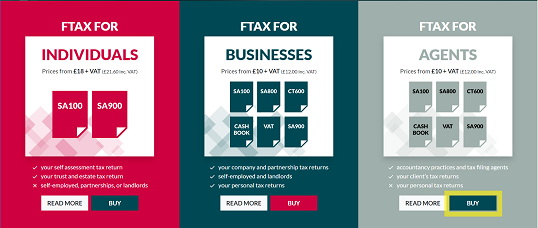 Select 'add to basket':
The current year products are initially displayed but previous years' products may be purchased by clicking on the arrow:
Click 'Pay Now' to go to checkout:
You now need to create an account.
Enter your email address in the text box and click 'Proceed to Payment':
Fill in your billing details and scroll down:
Click the box 'Subscribe to receive Newsletters and your annual 15% Loyalty Discount'.  This discount is added for subsequent purchases during the month of April:
Agree to the terms and conditions:
And select 'continue to payment': 

2. Purchase
Next, buy the forms. Enter your payment details and select 'Pay Now':
 Your receipt will be shown on screen:
After purchasing the forms you require, check your email inbox for an email that contains a temporary password:
Click the link to go to the Ftax homepage.
Select 'Login' and enter the email address you used to sign up and the temporary password:
You can now create a new password:
You can now download your forms.

3. Download and Save the Form
Login to the Ftax website and click the 'download' button:
Save the form in a known location and open the form with Adobe Reader:
Login to your account on the form by clicking the red ball and selecting 'Ftax Account Login':
The credits you have bought will be shown on the bottom left:

We are very grateful to our clients for their comments and suggestions, without which these guides would not be possible. If you have a suggestion to improve this guide or its associated video, please email tracey@ftax.co.uk